Row upon row of sparkling stainless steel benches laden with fresh raw ingredients, burners, juicers and oodles of noodles sit under vast, high ceilings, which help to keep things from getting a bit heated in what would otherwise be a vast oven.
Each stall offers just one or two dishes. Among the most popular are cau lao, pho and mi quang, but with each vendor sticking to their own family recipe it's quite possible that no two stalls serve quite the same thing — it's perhaps a bit like your favourite spag bol, for which we bet you've got a 'secret' ingredient!
Every dish is prepared to order with the broth or slow-cooked meat prepared each morning before the doors open at 07:00, and the noodles, herbs and vegetables topped up fresh from the surrounding market throughout the day. Stall owners work together which means if you want a juice from one stall, plus a cau lao Hoi An and a country pancake from another, they will bring it all to you in one place, saving you the strain of searching up and down while your lunch gets cold.
They are a friendly lot here and do love to have a foreign face at their stall. You're practically guaranteed to find someone ecstatic at being able to practise their English, which is a great way to find out a little bit more about Hoi An and its people. It's like dining with the family and sometimes it's good to have someone to explain exactly what it is you are about to devour.
A little light lunch?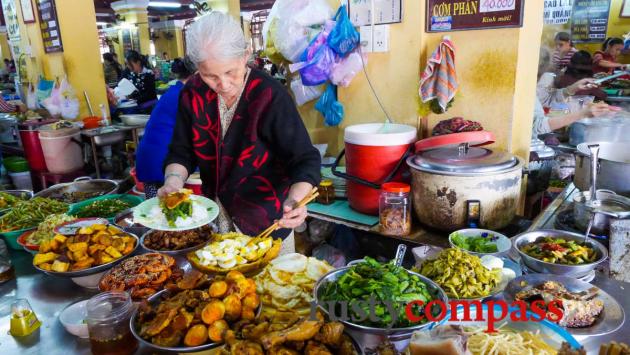 Prices are fixed and advertised at 30-35,000 VND a dish depending on serving size, with smoothies and juices coming in at approximately 30,000 VND and a small bottle of water setting you back 8,000 VND; you do pay what the locals pay here.
Everyone should try a meal at the market food hall at least once during their stay.
There are of course vegetarian options available.. I just didn't catch them on film.
If you prefer your dining experience to be a little more decadent, the Market Restaurant on An Hoi is a pricier option with similar dishes. For street food proper you should head to the vicinity of Tran Cao Van Street and its surrounds. A good restaurant offering all these things on the menu as well as the most divine wontons at decent prices is the White Sail. Also on Tran Cao Van and for a similar "real" local dining experience you simply must try the country pancakes at Nam cafe – 569 Hai Ba Trung; this is one of the most fun dining experiences you can have on a budget in Hoi An.